Long story short: back in 1996 I made a single-map WAD for Doom 1 full of devious traps. It sucked but it had potential so I unearthed it yesterday, fixed and polished it up to match modern standards. Here it is:
http://chebmaster.com/downloads/chekaizo.zip
Dare you make a blind run trough it and survive it without reloads?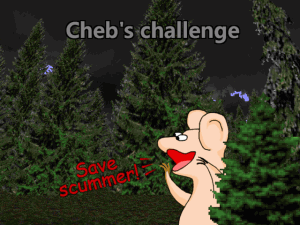 -----------------------------------------------------------

CHEKAIZO.WAD

by: ChebMaster

Requires: DooM or Ultimate DooM.

Game type: Tricks and traps, there are maybe 60 monsters on ultra violence. The traps *are* survivable on a blind run but you need very fast thinking outside the box and lots of spare health.

Replaces: E1M1 (just start a new game in the Knee-deep in the dead episode).

Compatibility: May or may not work in vanilla (never tested). I play-tested it using Zandronum, both with Brutal Doom v21 and in vanilla mode.

Speedrunning time: 4:10 (I suck at speedrunning)

Initially created in early 1996 (somewhere between February and April, I think) on an actual 25MHz 80386 with 4Megabytes RAM and no sound card. The editor used was a beta version of DoomEd for Windows 3.1 (see

https://doomwiki.org/wiki/DoomEd_4.2

). The damn thing kept crashing every 10 minutes or so, I must have had epic patience back then. And yet, my creativity was cut short: the editor hit a sector limit or something, so I was unable to go further due to guaranteed crashes.

In May 2020 I reworked and pimped this map out using GZDoom Builder 2.3.

The list of changes:

- *More* pinkies on ultra violence. Now even with Brutal Doom there are decidedly more pinkies than you have bullets. You shall not pass without finding that poorly hidden ammo stash.

- Redid one trap that was only working when playing using PC speaker (spectres only make sounds when you have an actual sound card - I didn't know that back in 1996)

- Mercilessly cut dark and convoluted labyrinths short. No, it is *not* fun searching for your way through dark corridors not showing on map. It's plain bad design.

- Redestributed the imps freed from the liquidated labyrinths to make many one-imp surprises. These are *not* showing on the map, heh.

- Redesigned key elements to use conventional design: doors requiring a key are marked, the mysterious button and the passage it opened replaced with a key and a clearly marked door (no, it is *not* fun and exciting to search through a maze of twisting dark passages, all alike, not knowing what that button did).

- For the red-hot corridor (it hurts) that passes next to the end of a lava fissure, made the fissure cross it in an obvious way. Better and obvious this way.

- Fixed texturing in a lot of places, made cosmetic changes to the underground hall and outdoors areas.

- Reworked my masterpiece of a *truly diabolic* Kaizo trap using knowledge gained in those decades. Now does not rely on confusing the player in a maze of twisting dark passages, all alike, not showing on map. Now everything *does* show on map, which makes the trap so much more devious

- Due to changes in the map imposed by that trap, the player returning with the red key now goes a different route. Which now serves as yet another Kaizo trap if you were too cautious with barrels. Barrels are fun!

- Reworked the remaining Kaizo traps to be survivable if the player pays attention.

- Added one more Kaizo trap by copy-pasting it from my other, too-artsy WAD (making which I failed spring exams and had to repeat my third year in the university - thank you Dad for putting up with my foolishness, so that I am who I am instead of being reduced to fertilizer in Chechnya)

- Added beefier monsters to serve as a final boss of sorts (hint: it's two cacoes on hurt me plenty. So big and scary!)